---
Surviving Bear Markets
Modern participants have rarely faced severe bear market conditions. Most players wrongly believe that profits will continue even in a major decline as long as they just flip their long strategies upside down. But worldwide bear markets present difficult conditions for most short-side participants. Trend-following tactics often fail as sudden squeezes offer no escape and induce heavy losses.

A special personality marks each secular bear market. Inflation or oil prices may drive some while overheated economics or asset overvaluation awakens others. But bear markets all display one common characteristic: they make it much harder to turn short-term profits than typical bull markets. Swing traders should prepare for the next downturn now so that they survive and profit while waiting for better conditions.

Pattern Cycles suggest effective short sale tactics during individual stock bear markets. But volume drops sharply through most phases of a broad worldwide bear depression. This induces illiquidity and dangerous trading conditions. Spreads widen and slippage increases for both entries and exits. Opportunities vanish as good short sale inventories dry up at many broker-dealers. Reliable information disappears and good sources close shop due to a lack of interest.

Bear markets appear through many time frames. They can represent grand bear markets, cyclical bear markets, intermediate-term corrections or minor downswings. Minor downtrends can last a few minutes or days. Longer ones may persist for several months. Grand bear markets can span decades and embed multiple cyclical bull-bear swings. These cyclical swings pose the greatest threat for modern swing traders. Historically this particular bull-bear cycle lasts about 4 years, with 25% (or 1 year) of that time spent in active bear conditions.

Cyclical Price Declines
Bear Market
Percent Decline
Months to Recover
1973-1974
59%
48
1983-1984
31%
18
1987-1988
35%
20
1989-1990
33%
7
1998
29%
2
Bears shake out the market infrastructure and realign prevailing psychology. The actual price decline often takes up only a small percentage of the time that downtrend conditions persist. As with stocks, indices fall faster than they rise and the selling spasms tend to end quickly. The rest of the time the market meanders back and forth on low volume while it tries to heal. This offers another clue why trading during these times can be very difficult. The typical bear market doesn't end in the high volume capitulation that marked volatile corrections in the 1990s. It slowly heals as value investors start to move back into positions. Most other participants will have little interest in the financial markets by that time.

The media conditions traders and investors to believe that a simple 20% retracement off the index highs constitutes an active bear market. This comforts many participants, the small drop in their portfolios giving them battle credentials. But technical and psychological damage mark bear conditions with far greater accuracy than flat percentages. This type of pain has rarely been experienced over the past two decades.

A bear market corrects the excesses of a specific market uptrend. It retraces according to classic Fibonacci mathematics. When the prior rally displays a moderate advance, the bear market may not need a great pullback to correct the imbalance. But when a market rally extends to historical levels, conditions favor a very deep pullback that may take several years of basing before a new and sustainable uptrend can begin.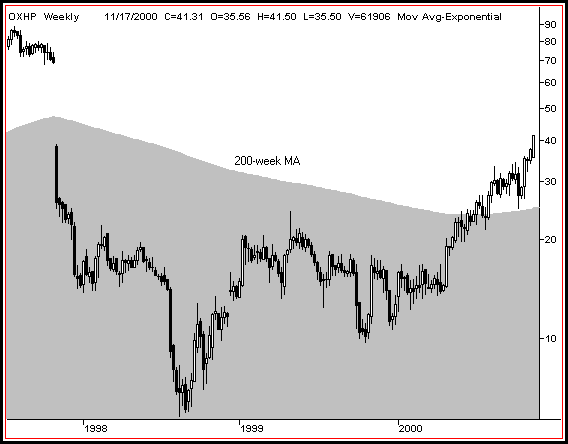 Long-Term Price Recovery: Oxford Health Plans collapses into a multiyear bear market. But most of the selloff takes place during only 5 weeks of market action. Unfortunately, the stock needs far more time to recover from this severe decline. After more than 2 years of basing, OXHP finally gathers enough new interest to test the initial breakdown.
Swing traders should act defensively through cyclical bear market conditions unless the intraday charts signal opportunities. Rallies and selloffs that print in this time frame offer excellent short-term setups. Tighten the holding period and step into as many positions as the temporary market environment allows. Try to anticipate where short covering rallies will likely erupt. Get in on the same side as the professionals and use the short seller's panic to turn a profit. Then find natural reversal levels and flip back to the short side after the squeeze completes.

As a bear market evolves, follow the daily chart for key turning points and act defensively at all times. Wait for favorable reward:risk and avoid being tossed around by the frequent swings of investor hope and fear. These cyclical events complete through the same mechanics as individual stocks and futures. Look for a double bottom or the Big W to signal the end of a major selloff. Track the growth of accumulation and renewed interest through long periods of basing. These emotional periods offer excellent long-term profits for those with precise market timing. But as with other falling knives, entry requires execution against popular sentiment. Watch the technicals closely and act only after cross-verification favors the next bull phase.